---
ANNOUNCEMENT
March 13th, 2020
Due to public-health precautions related to the outbreak of the COVID-19 virus, we have made the difficult decision to cancel our Carmina Burana concert on April 18th. To our loyal audience and friends who were looking forward to the concert as much as we were, we wish to express our sincere thanks for your support and understanding. We plan to reschedule the performance for Spring 2021 and hope that you will join us then. In the meantime, those who have already purchased tickets for April 18th will be offered a full refund or a transfer of their tickets to a future concert.
Our next concert is This Shining Night, on Saturday, May 30th, at Grace Church on-the-Hill. This special "by request" concert will feature some of the best-loved choral gems of the past five centuries — by Palestrina, Tallis, Rheinberger, Barber, Lauridsen, the Beatles, and others. Please take care, stay well, and join us on May 30th!
---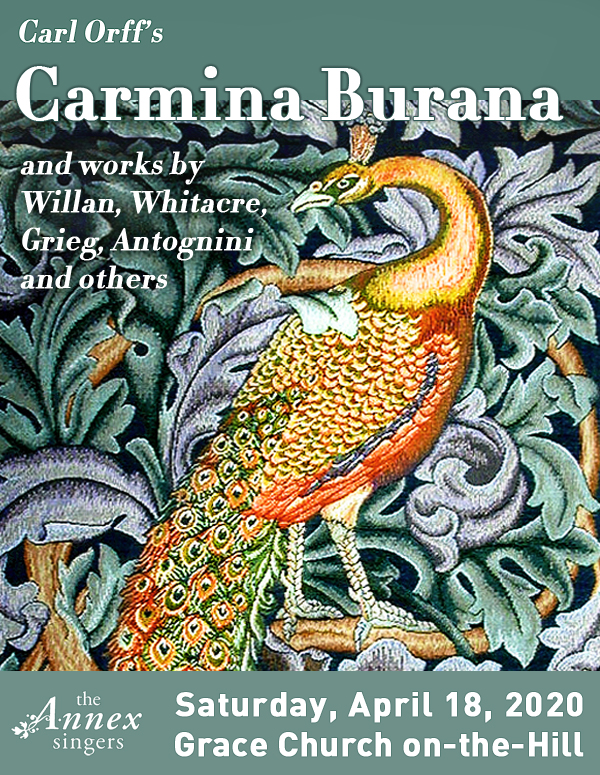 Welcome to the online home of The Annex Singers of Toronto, a vibrant community choir that performs with spirit and sophistication.
Now in its 40th season, the choir demonstrates its passion for excellence with a challenging and eclectic repertoire spanning seven centuries. Both the main choir and the Annex Chamber Choir enjoy collaborations with a wide array of emerging and established guest artists and ensembles, and demonstrate their commitment to contemporary music with numerous premieres of Canadian works.
For the past ten years, The Annex Singers has flourished under the able direction of Artistic Director Maria Case, who brings dynamic leadership and inventive programming to the choir.
We typically perform in December and present one or two concerts in the spring. Please join us for our 40th Anniversary season!
Tickets are available for our upcoming spring concerts!
This Shining Night
Saturday, May 30, 2020, 7:30 pm
</p="">
Subscribe to our Newsletter