Welcome to our 2021-2022 season!
Dear friends,
We are thrilled to announce that we are singing again and planning wonderful concerts for the coming year! With our 2021-2022 season, The Annex Singers embarks on a three-year cycle of programmes exploring dialogues in their many forms and guises. Through the uniquely expressive medium of choral music, we will consider points of contact and contrast between different eras, art forms, and cultures. We hope you will join us on this journey.
On behalf of the choir and the executive, we wish to express our appreciation for your ongoing patronage and enthusiasm, and we look forward to celebrating our 42nd season with you!
Maria Case, Artistic Director
---
What Will Remain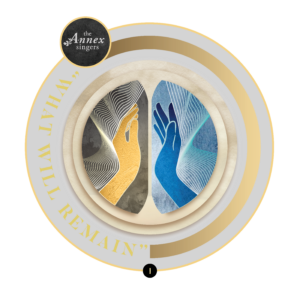 Premieres online Sunday, November 14, 2021, 3:00 pm

Click here to register by donation now! 

Through poignant words and transcendent music, What Will Remain explores themes of past and present, war and peace, memory, separation, and hope. Including works by Ešenvalds, Paulus, Case, Lennon & McCartney, and U2.

Welcome to the online home of The Annex Singers of Toronto, a vibrant community choir that performs with spirit and sophistication.

Now in its 42nd season, the choir demonstrates its passion for excellence with a challenging and eclectic repertoire spanning seven centuries. Both the main choir and the Annex Chamber Choir enjoy collaborations with a wide array of emerging and established guest artists and ensembles, and demonstrate their commitment to contemporary music with numerous premieres of Canadian works.

For the past fifteen years, The Annex Singers has flourished under the able direction of Artistic Director Maria Case, who brings dynamic leadership and inventive programming to the choir.

We typically perform in December and present one or two concerts in the spring. Please join us for our 42nd season!
Subscribe to our Newsletter