The Choir
Now in its 44th season, the Annex Singers is a 55-voice auditioned ensemble that performs an eclectic range of both major and lesser-known works from the classical Western choral repertoire. The choir also demonstrates its ongoing commitment to contemporary music with numerous premieres of Canadian works.
For the past eighteen years, the choir has flourished under the able direction of Artistic Director Maria Case, who brings dynamic leadership and inventive programming to the choir, including some of her own compositions. We are accompanied by the talented pianist Anne Lee and enjoy collaborations with a wide array of guest artists and ensembles.
We perform in concert in December, late winter (February/March) and spring (April/May), and often present a cabaret evening in late May or early June. The February/March performance features The Annex Chamber Choir, a 24-voice ensemble formed in 2011. We frequently collaborate in Opera by Request productions, and take other opportunities to sing in the community as a community service.
Artistic Team
Maria L. Case, Artistic Director
M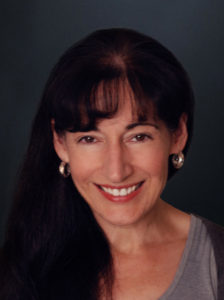 aria Case is a dynamic and highly regarded artist and educator in Toronto's music community. She is an accomplished pianist and vocal recitalist, choral conductor, and composer. She maintains a busy private studio and is active as an examiner, adjudicator and lecturer on piano, theory and musicianship pedagogy at the Royal Conservatory of Music, where she served as Chief Examiner of Theoretical Subjects from 2006 to 2013. Maria has been the Artistic Director of The Annex Singers since 2005, leading this group with dynamic and imaginative programming. She is also the Music Director of Glebe Road United Church in Toronto. The majority of Maria's compositions celebrate the voice, and are inspired by texts from a wide range of texts and traditions. Her most recent choral works are In Winter, O Living Flame, The World's Desire, and the song cycles Empty Wake, Nightsongs, Into Flight, and Gallery. Her vocal works are published by Plangere. Maria holds ARCT Performance Diplomas in Piano and Voice as well as a Bachelor of Music in Composition from the University of Toronto. Other studies include graduate studies in English literature, choral and orchestral conducting, and jazz at the Berklee College of Music.
Anne Lee, Collaborative Pianist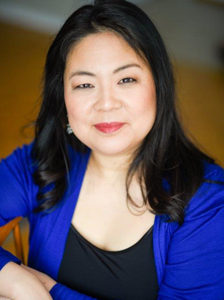 Anne Lee began her piano studies at a young age in Vancouver after an exhaustive search for a teacher willing to take on a pint-sized aspiring pianist with too-small hands. Path found, her musical roots flourished throughout her school years, as she explored a diverse portfolio of instruments, including clarinet, bassoon, and saxophone. She eventually transplanted herself to southern Ontario, where she studied English Literature and Music Performance at Queen's University. Meanwhile, she (and her still-pint-sized hands) continued being an active accompanist, chorister and instrumentalist; participating in various musical ensembles along with her academic studies. She has studied with notable music educators such as Edward Parker, Gordon Craig, and Dr. Christopher Foley. Currently based in Toronto, Anne is valued for her sensitive artistry and profound understanding of choral collaboration. Her intuitive and supportive musicality has been an asset throughout her accompanying and creative collaborations with students, soloists, and various organizations and ensembles. Anne has been an accompanist with the Annex Singers since September 2011.
Josh Clemenger, Assistant Director and Tenor Section Lead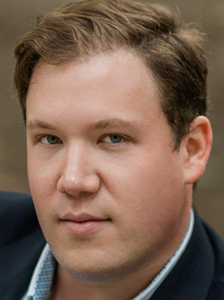 Tenor Joshua Clemenger has recently completed a master's degree in Opera at The University of Toronto. He began his training in Hamilton, Ontario, and attended the University of Western Ontario where he earned a bachelor's degree in Performance with Torin Chiles and sang his first opera. He currently performs in operas and concerts across southern Ontario. Recent opera credits include Fatty in Rise and Fall of the City of Mahogonny with Opera in Concert, Sam in Street Scene and Count Belfiore in La Finta Giardiniera with the University of Toronto Opera, and Sam Snifter in TrypTych Concert and Opera's production of H.M.S. Parliament. This winter he is returning to Toronto Operetta Theatre to play the role of Zsuspas in their upcoming production of The Gypsy Baron.
Melanie Conly, Soprano Section Lead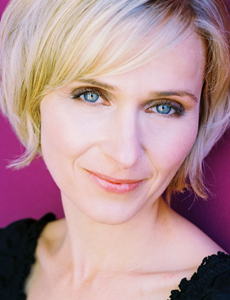 Lauded for her "passion and charm" (Now Magazine) and "sweet voice delivery" (Toronto Star), soprano Melanie Conly is acclaimed for her distinctive voice and musical understanding.  An experienced chamber musician and recitalist, she often solos with choirs and orchestras and is frequently sought out for her compelling performances of new music. She has performed in many series and festivals across Canada and creates and performs unique themed concerts in a wide range of musical styles. Alongside performing, Melanie maintains a voice and piano studio in Toronto. She was the singer for the Frederick Harris Music recordings for the Royal Conservatory Vocal Series 2012 and 2019 editions. In 2019, she was a presenter and adjudicator at the Royal Conservatory of Music Summit in Toronto, and in 2020 became a member of the Royal Conservatory College of Examiners. She is a choral clinician, certified yoga instructor, and is currently cultivating workshops that explore tools for performance, creativity and life — a synthesis of her passions as a teacher, performer, yogi, and meditation practitioner.

Meghan Symon, Alto Section Lead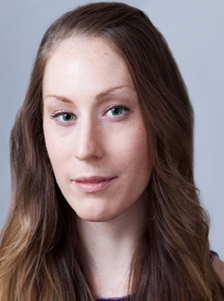 Mezzo-soprano Meghan Symon holds a Master of Music degree from the University of Toronto where she studied under Canadian soprano Mary Morrison. Recent engagements include Cousin Hebe in H.M.S Pinafore, Luce-Gertrude in Kamouraska, and First Norn in Götterdämmerung. Prior roles include Sorceress in Dido and Aeneus
and Truth in The Triumph of Time and Truth. Notably, she was praised for her "warm, velvety mezzo-soprano, effective acting and stage presence" as Hansel in Humperdinck's Hansel and Gretel (Stage Door). Other notable roles include the title role in Handel's Rinaldo, Le Prince in Cendrillon, and Genevieve in the debut of Jodin's MAI 68' at the Winnipeg New Music Festival. More recently, she sang Ulrica in Sullivan's Ivanhoe with Opera by Request in January, and Maria Case's "Nightsongs" in The Annex Singers' February concert, Into Flight. When not singing, Meghan can chat your ear off about her love for Winnipeg, all things baking, or tips on training for your next marathon.
Lutzen Riedstra, Bass Section Lead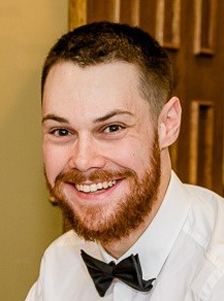 Bass section lead Lutzen Riedstra was featured as one of the Stratford Six in the closing concert of Stratford Summer Music's 15th season. He has also taken part in Stratford Summer Music's Vocal Academy, where he received lessons with Michael Schade, Philip Addis, Nathalie Paulin, Krisztina Szabo, and Emily Hamper. Lutzen has appeared as the bass soloist in several oratorios, including Mozart's Requiem, Fauré's Requiem, Handel's Messiah and Maunder's Olivet to Calvary. His opera credentials include Masetto in Don Giovanni, Figaro in The Marriage of Figaro and Giove in Cavalli's La Calisto, as well as chorus work. One of the highlights of his career so far was singing in a concert with renowned mezzo-soprano Stephanie Blythe. He can be heard singing every Sunday with the choir at Yorkminster Park Baptist Church in Toronto, and he has also served as the bass section lead/soloist at Kingsway-Lambton United Church and Trinity-St. Paul's United Church. His choral work includes four years with the Orpheus Choir of Toronto as a Sidgwick Scholar and, most recently, joining the Oakville Choral and The Annex Singers. He holds a Bachelor of Music in Vocal Performance from the University of Toronto and is completing a Master of Divinity degree at Wycliffe College, conjoint with the Toronto School of Theology and the University of Toronto.

Gallery