2023-2024 Season
In the Margins
December 16, 2023, 7:30 pm
Grace Church on-the-Hill
Against the backdrop of winter, our programme explores various forms of marginalization, exhorting us to bring light to the dark places, shelter to the homeless, and comfort to the poor. Featuring traditional favourites, music by Josquin, Rossi, Pärt, and a newly commissioned work by Frank Horvat.
Romantic Gems
March 16, 2024, 7:30 pm
Grace Church on-the-Hill
Bask in some of the best-loved choral music of the Romantic era, and discover some new treasures too! We present music by Schubert, Mendelssohn, Grieg, Rachmaninoff, and Fauré and celebrate some lesser-known gems by Clara Schumann, Fanny Mendelssohn, Amy Beach, and Florence Price.
Fascinating Rhythm
June 1, 2024, 7:30 pm
Grace Church on-the-Hill
Music moves in mysterious ways, and in this programme we sample some of those fascinating rhythms. From free and flowing to dynamic and driving, this is a concert that will stir the senses. Featuring music by Hildegard von Bingen, Monteverdi, Gershwin, McGlynn, Balfour and others.
0
Past Seasons
2022-2023 Season
Voices of Earth
Saturday, May 13, 2023
Grace Church on-the-Hill, Toronto

The diverse voices of the Earth and its creatures in a choral celebration of the polyphony of the natural world. Featuring works by Josquin, Elgar, Britten, Shaw, and the Beatles.
Into Flight
Saturday, February 11, 2022
Grace Church on-the-Hill, Toronto

An eclectic array of choral works and art songs composed by Artistic Director Maria Case and inspired by her work with the choir. With themes of love, longing, beauty and the passage of time, and texts spanning more than two millennia, Case's vocal works achieve a rapturous union of words and music. Featuring sopranos Melanie Conly and Tina Torlone, mezzo Meghan Symon, tenor Joshua Clemenger, and pianist Ivan Jovanovic, with The Annex Singers and The Annex Chamber Choir.
The Winter Garden
Saturday, December 3, 2022
Grace Church on-the-Hill, Toronto

A programme that calls forth the beauty of winter flora and fauna, with works by Poulenc, Whitacre, and Ešenvalds, and two world premieres of Canadian works. Featuring soloists soprano Melanie Conly, mezzo Meghan Symon, tenor Joshua Clemenger, and bass Lutzen Riedstra, as well as flutists Sophie Lanthier, Amanda Lowry,  Sara Constant, and percussionist Alejandro Céspedes.
2021-2022 Season
Songflight
Saturday, June 4, 2022
Grace Church on-the-Hill, Toronto

We celebrate the return of spring with songs of hope and renewal. Featuring Vivaldi's Gloria, with soloists Melanie Conly, soprano, and Lyndsay Promane, mezzo-soprano, and shorter spring-themed works by Morley, Willan, Quartel, Case, and the Beatles.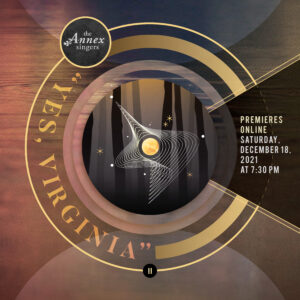 Streamed December 18, 2021 — January 9, 2022
"Yes, Virginia" affirms the power of belief, faith, and the imagination in this most magical of seasons. Featuring works by Canadian composers Willan and Sirett, the poetry of Roethke and Eliot, and performances by actors Colin Mochrie and Debra McGrath. Recorded live at Grace Church on-the-Hill, the choir is joined by soprano Melanie Conly and tenor Joshua Clemenger. 
What Will Remain
Streamed November 14, 2021 — December 5, 2021
Through poignant words and transcendent music, What Will Remain explores themes of past and present, war and peace, memory, separation, and hope. Including works by Ešenvalds, Paulus, Case, Lennon & McCartney, and U2.


2020-2021 Season
A Child's Christmas in Wales
Virtual concert, premiered on Saturday, December 12, 2020
Rediscover Christmas through the eyes of a child in Dylan Thomas's classic narrative. Featuring actor Richard Partington, soprano Melanie Conly, tenor Joshua Clemenger, bass Parker Clements, fiddler Kelly Lefaive, and percussionist Derek Gray, this enchanting performance includes works by Morley, Rossini, and Arne.
2019-2020 Season
Winter Light
Saturday, December 14, 2019
From the longest night to the return of light, we sing the many facts of the season, celebrating our native landscapes with a distinctly Canadian accent. Pieces by Harris, Thompson, Ingari, Lightfoot, and others. We welcome guest artists Ariko, a Franco-Ontarian fiddle trio whose rich vocal harmonies and dynamic rhythms abound with jazz and zydeco inflections.
Carmina Burana
CANCELLED (To be rescheduled)
Saturday, April 18, 2020

Virtues and vices alike tumble when Fortuna spins her wheel! Join us in celebrating spring with the boisterous and spirited Carmina Burana, featuring a stellar cast of soloists — soprano Melanie Conly, tenor Joshua Clemenger, and bass-baritone Alex Halliday — along with the singers of Young Voices Toronto, duo pianists Coral Solomon and Michael Berkovsky, and a percussion ensemble headed by Alejandro Céspedes. Complementing Carl Orff's monumental work is an intimate set of pieces inspired by the Song of Solomon and focusing on the gentler themes of love and nature. Featured composers include Willan, Whitacre and Grieg.
This Shining Night
CANCELLED
Saturday, May 30, 2020
The choir has spoken! In this "by request" concert, the choir will sing a programme of pieces that have especially touched our hearts, and are certain to win yours. Our musical offering features some of the best loved choral gems of the past five centuries, by Palestrina, Tallis, Rheinberger, Barber, Lauridsen, the Beatles, and others.
---
2018-2019 Season
Gloria!

December 15, 2018
Light up the season with glorious song! Poulenc's magnificent Gloria is at the heart of our programme as we sing the Christmas story through familiar favourites and new discoveries. Featuring Nicole Hulme, soprano, and Stephen Boda, organ.
Camerata: A Day in Song
February 23, 2019
Join the Annex Chamber Choir as we trace the course of a day in song. From Mendelssohn and Morley to Dolly Parton and U2, we present our most eclectic programme yet. Featuring guest artist Raffi Altounian, guitar.
Immortal Mozart
April 6, 2019
The astonishing scope of Mozart's unfinished Great Mass in C minor is paired with the concise perfection of Haydn's Te Deum and the shimmering beauty of Elgar's Lux Aeterna. Featuring The Talisker Players and four stellar soloists.
Underneath the Stars
June 1, 2019
Moonbeams and stardust light up our final programme of the season — a cabaret concert of jazz standards and popular songs on the theme of celestial night. Selections by Gershwin, Porter, Berlin, and other Songbook luminaries.
---
2017-2018 Season
December Diaries
: A Choral Drama
December 9 & 10, 2017
Shackleton ice-bound at the South Pole, Champlain's first winter in New France, the Christmas Truce of 1914… journey with us to three remarkable Christmases past as we encounter individuals creating meaning for themselves in the face of unimaginable hardship.
Camerata
March 3, 2018
The Annex Chamber Choir presents an eclectic programme in an intimate setting, highlighting jewels of the chamber repertoire by Dufay, Tallis, Rheinberger, Sirett, Gershwin, and others. Featuring guest artist Mark Chambers, cello.
North by Northeast 
May 5, 2018
Contemporary choral music by Scandinavian and Baltic composers is lighting up the northern sky! Join us for a luminous evening, featuring Dobrogosz's Jazz Mass (Sweden), and including music by Gjeilo (Norway), Pärt (Estonia), Ešenvalds (Latvia) and Miškinis (Lithuania).
---
2016-2017 Season
Noël
December 17, 2016
From the homespun carols of his native France, Marc-Antoine Charpentier weaves a magnificent tapestry in his Messe de Minuit. Carols remain at the heart of our programme with settings by Praetorius, Willan, Rutter, Sandström and others, including a world premiere.
Cabaret: Rocks and Trees
(and trees and rocks…)
June 3, 2017
From the fun and folksy to the sublimely poetic, we present the Canadian Songbook with words and music from our nation's troubadours, including Joni Mitchell, Leonard Cohen, Gordon Lightfoot, Stan Rogers and Wade Hemsworth.
---
2015-2016 Season
Gaudete! 
December 12, 2015
Ancient words meet modern settings in Benjamin Britten's
A Ceremony of Carols, while the spirit of the season sparkles in shorter Renaissance and contemporary works by Victoria, Poulenc, Tavener, and Stopford. Featuring guest artist Julia Seager-Scott, harp.
Camerata
March 5, 2016
The Annex Singers Chamber Choir in an eclectic programme highlighting jewels of the chamber repertoire by Victoria, Byrd, Mendelssohn, Grieg and Nyberg, along with selections from the American Songbook. Featuring guest artist Mark Chambers, cello.
Songs & Sonnets: A Shakespeare Celebration
May 7, 2016 
Commemorating the words, life and times of the Bard with Renaissance works by Tallis, Dowland, Morley and Byrd, as well as contemporary settings of songs and sonnets by Matthew Harris, Jaakko Mäntyjärvi and legendary jazz composer George Shearing. Guest artist Cynthia Hiebert, harpsichord.
---
2014-2015 Season
The Ice Storm
December 13, 2014 
What really happened when the lights went out? Come find out at The Ice Storm, a new choral drama featuring an original script. Through words and music, we will revisit the bother and blessing of last winter, and discover that on the darkest night, the stars shine brightest.
Till Beauty Shines
April 18, 2015
Featuring one of Haydn's finest works, the tempestuous Mass for Troubled Times, better known as the Lord Nelson Mass. After the storm has settled, we present songs of love and peace. We are joined by The Talisker Players and four stellar soloists for this celebration of 35 years of singing.
Cabaret: Where in the World? 
May 30, 2015
It's time to put on your travellin' shoes, and join the Annex Singers as we take you on a journey that traverses the globe in song. All aboard!
---
2013-2014 Season
The M Files
December 14, 2013
Mysterium. Magnificat. Maria. A celebration of the ancient texts of the season, as interpreted by composers spanning oceans and time. Including music by Josquin, Rachmaninoff, Raminsh, and Pärt. Featuring guest artist Sarah Christina Steinert, mezzo-soprano.
Camerata 
February 22, 2014
The Annex Chamber Chorus presents its first full-scale concert, which will feature an eclectic programme in an intimate setting. The evening will highlight works by Josquin, Palestrina, Britten, Gilbert and Sullivan, and the Beatles. Featuring guest artist Lucas Harris, lute.
The Road Home
May 3, 2014
Exile, sojourn, and return — a musical pilgrimage that explores the varied nature of heart, hearth, and home. Selections by Palestrina, Barber, Brahms, Whitacre, and Canadian folk legends Wade Hemsworth and Stan Rogers. Featuring guest artists soprano Tina Torlone and fiddler Miranda Mulholland.
---
2012-2013 Season
December Diaries
December 8, 2012
An original programme exploring the generosity of spirit of this special season. The evening is a feast or words and music, including seasonal carols and music by Purcell, Lully, Britten, and others. Guests are Dora-nominated actors Barbara Gordon and Kevin Hanchard and renowned fiddler Anne Lindsay.
Heaven and Earth
April 13, 2013
From the heavenly heights of Faure's serene Requiem to the joyful tumult of life here below, we celebrate the imminent arrival of spring with music sacred and profane. Featuring guest artists Paulina Swierczek, soprano, and Domenico Sanfilippo, baritone.
Cabaret: The Food of Love
May 25, 2013
If music be the food of love, play on….
Be our guest at our spring cabaret, an evening of great music, good food and flowing wine. We'll be serving up a banquet of Broadway tunes, standards, popular classics and contemporary hits.
---
2011-2012 Season
A Child's Christmas in Wales
December 10, 2011
Rediscover Christmas through the eyes of a child in our presentation of Dylan Thomas's classic narrative. Featuring actor Richard Partington and the Broadview Brass, selections include seasonal carols and music by Sweelinck, Arne, Joubert, Walton, and Lauridsen.
Into Light 
March 31, 2012
Join us as we usher in Spring with a programme that celebrates the growing light of the season, featuring songs of hope and inspiration. We are delighted to be joined by soprano Paulina Swierczek, who will perform a set of art songs, including the world premiere of a new work by our own Maria Case.
Opera Choruses
May 26, 2012
From the sublime to the ridiculous, our programme features choruses of love, hate, passion, fate, freedom, adventure, and drinking! Featuring a return of guest performers soprano Lindsay Heyland and tenor Justin Ralph, both of whom thrilled us in last year's Choral Masterworks.
---
2010-2011 Season
Christmas at Holy Rosary
December 10, 2010
Celebrating the season at Holy Rosary church, exploring works from the past 600 years with guest ensemble the Broadview Brass.
Choral Masterworks
April 9, 2011
Performances of some of the best-loved choruses from major works of the choral repertoire. Featuring guest performers: Lindsay Heyland, Justin Ralph and Jesse Malone.
The Weather Report
May 28, 2011
How's the weather? Come find out at our spring cabaret, but be prepared for a little stormy weather, as well as sunshine, showers and everything in between.
---
2009-2010 Season
Christmas Near and Far
December 12, 2009
Celebrating the season with carols from a wide variety of musical traditions, each sung in its original language.
Songs of the Earth
April 17, 2010
Excerpts from Carl Orff's Carmina Burana as well as a set based on the Song of Songs. Featuring guest performers: Philip Kalmanovitch, Allison Cecilia Arends, Elaine Lau, Adam Sherkin, Alejandro Cespedes, Bruce Chi, Joel Cormier, Etienne Levesque, J. Rafael Ponciano, Ed Squires
It's About Time
May 29, 2010
Our 30th anniversary celebration featuring songs on the theme of time – past, present, and what is to come.
---
2008-2009 Season
Choruses and Carols
December 12, 2008
Celebrating the season with famous choruses and carols both old and new.
Shout!
April 25, 2009
Featuring Steve Dobrogosz's Jazz Mass and Haydn's Te Deum.
Mad, Bad & Dangerous to Know
May 30, 2009
A veritable rogues' gallery of blackguards, knaves and femmes fatales!
---
2007-2008 Season
What Sweeter Music
December 1, 2007
Season's greetings courtesy of Charpentier. This midnight mass and other holiday favourites will help you get into the spirit of the season.
Schubert, Spring & Song
April 12, 2008
French, English and German madrigals and a Mass by an Austrian you might know. Join us for this initiation of the Spring!
Cabaret: La Vie Boheme
May 31, 2008
Celebrating the life Bohemian and the road less traveled.
---
2006-2007 Season
Mozart, Madrigals & More
April 14, 2007
Featuring Mozart's Coronation Mass, this performance will also feature popular madrigals and time honoured love songs.
Cabaret: Heavenly Bodies
June 2, 2007
With songs of the sun, moon and stars, this performance will have your head in the clouds and stars in your eyes; a tribute to to all things heavenly.