Sing with us!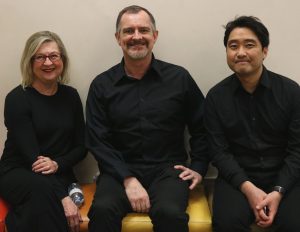 If you love to sing and have a passion for choral music, we invite you to audition. Our choir is dynamic and innovative, and strong musicianship skills, sight-reading and vocal/choral experience are needed to meet the challenges.
We are currently auditioning for all parts, with particular emphasis on Tenor and Soprano.


Rehearsals
We rehearse on Monday evenings from 7:30 to 9:45, and extra sectional rehearsals may be scheduled each term. The full choir meets at St. Thomas's Anglican Church at 383 Huron Street in Toronto.


What to expect in the audition
Auditions last about fifteen minutes and are led by the Artistic Director, Maria Case, assisted by one or two other executive members. The audition consists of the following:
Vocal Warm-ups – The director will lead a few vocal exercises to help you warm up your voice and establish a comfortable range.
Prepared Song – This can be a traditional folk song, art song or hymn, accompanied or a cappella. If you would like to be accompanied, please bring an extra copy of your music.
Sight-reading Passage – This will be an accompanied piece or passage in a comfortable range. The text will be in English, although you may also choose to sing on a vowel.
Discussion – There will be an opportunity to ask questions about the choir and the coming season.
To schedule your audition, please access the audition sign-up form below. Alternatively, contact the Membership Coordinator at torontoannexsingers@gmail.com.