What Will Remain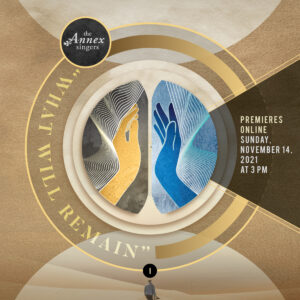 Available to stream November 5-19, 2022
Originally streamed November 14, 2021 — December 5, 2021
Through poignant words and transcendent music, What Will Remain explores themes of past and present, war and peace, memory, separation, and hope. Including works by Ešenvalds, Paulus, Case, Lennon & McCartney, and U2.
Featuring Josh Clemenger, Max Ackerman, Melanie Conly, Isabel Matwawana, and more. Click here to view the concert program.
Streaming of this video is free by clicking the red "play" button on the YouTube video below. We ask you to please consider supporting the Annex Singers with a donation.